Back to the Basics
Jul 04, 2016
by
Janet Zinn
, in
Acceptance , achievements , Change , choices , criticism , Flaws , grounded-spirituality , Happiness , housework , Impatience , Inner Peace , Interspection , ironing , Laziness , Patience , Perspective , Self Care , self realization , self-acceptance , Spirtuality , Stress Reduction , thoughtfulness , Uncategorized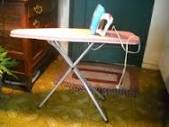 I learned to iron from my mom, but not before I scorched a shirt or two. Cotton and Polyester were the fabrics of my childhood. And, although I liked my Danskin striped shirts and ribbed pleated pants, cotton was the classier choice for anything other than playing in our Haddontown neighborhood. When inside I had chores, one of which was the ironing.

I would set up the creaky ironing board in the kitchen close to the counter with the electrical outlet. And then I'd carefully plug in the Sunbeam, aqua iron until it was hot enough to smooth away the folds. I would iron my father's shirts for work, my sister's and my blouses, leaving the trickier ironing of dresses to my mother.

In my twenties I volunteered at a new age retreat. One of my jobs was to iron the leader's white oxford shirts. Perhaps I was chosen because Virgos are known for our attention to detail. They never told me. What they did say was, "Janet, it's imperative that you bring integrity to your work. There must be no lines in his shirt. Anything that takes his attention away from leading the group compromises the quality of the retreat." I took them seriously, and performed my ironing with fear and seriousness. At the end of the week I was commended for my work, but at great cost to my happiness.

Today I ironed my dresses, two green, two blue, one orange and one black. It's been a while since I've ironed. I tend put on no-iron clothes or slightly creased shirts. I take out a steamer from time to time, but sometimes it just doesn't do the job of old fashion ironing.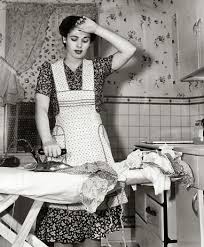 There is something meditative about ironing. I can tell immediately if I'm doing it right. And I know this because the wrinkles disappear. I find this ever so satisfying. It's clear what task is at hand, and it's clear when it's complete. Few jobs are that straightforward in life. Unlike my fear of failure at the retreat, I'm happy to do my ironing with music on in a state of ease. My dresses are done and I'm grateful to my mom for introducing me to the finer points of ironing.