In Pursuit of a Good Vacation
[caption id="attachment_246" align="alignleft" width="300"]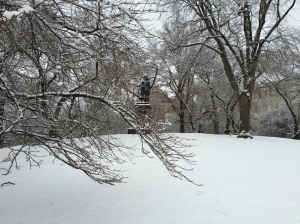 What I left behind in going away[/caption]
It turns out I'm not much of an all-inclusive gal. We are in a gorgeous setting, in the warmth of Mexico. I am so happy to be out of the New York winter for the week. And, yet, in this lovely setting, I hear muzak when I yearn for quiet. I dine at restaurants that have stunning menus with adequate food. We are in the lap of luxury, and I crave simplicity. Tonight we walked the property. It is spa-like in design, though I heard a mariachi band playing to diners at a themed buffet. We went to the café for an after-dinner espresso. There was a lounge singer nearby. As much as I enjoy soloists, this was more paint by numbers than art. We turned a corner and could hear a mash-up of disco and pop. Lights were blaring, and a DJ was running a show as if a Jersey Bar Mitzvah depended on it.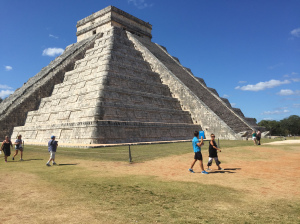 We were actually looking for the rock band noted on the activity list. We found them. It turns out they were not as loud as the other performers. But they were of equal quality. There was nowhere to go that was silent, except out room. The room is beautiful. The bathroom alone is more spacious than our bedroom at home. And that's nice. I appreciate a bathtub that has leg room for someone older than five.
There have been lovely moments. We saw the Mayan ruins and the Pyramid. That was truly amazing. And, I relish the laughs we've exchanged this week. The talks we've had. It's been so nice to share time together, while also respecting the time we each enjoy on our own. I have no email. So, though I dread the idea of going through over a 1,000 emails when I get home, I am grateful not to have to think of responsibilities for a week. This makes it a true vacation.
I am able to jog. I'm happy about that. I explored Playa Del Carmen, and I went on an easy path. There's beautiful street art, graffiti art and murals. Walking has also been nice. I've been able to walk and run on the narrow beaches. I had planned on swimming, but the pool is particularly cold. No heated pool except for those with concierge service. I do not like feeling like a have-not.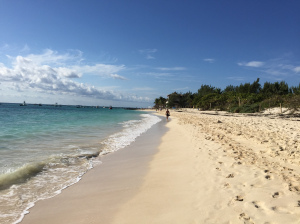 So, though there have been high points, I will not be returning. I know I'm so fortunate to be able to get away. And, I know what I don't like. Now I will do my best to discover what I do want from a vacation. I have the sun and time off, which is half of the equation. Now I will work on figuring out the other half, thus completing the satisfying vacation experience.